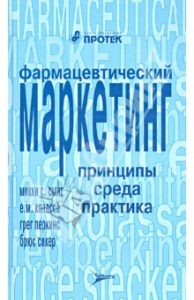 Pharmaceutical marketing. Principles, environment, practice
Mickey S. Smith, E.M. Colussa, Greg Perkins, Bruce Seaker
Original name Pharmaceutical Marketing: Principles, Environment, and Practice
The book "Pharmaceutical marketing. Principles, environment, practice "considers the key" four Ps "of any marketing: product (product), price (price), distribution (place) and promotion (promotion). The uniqueness of this publication lies in the harmonious combination of the theory of marketing processes with examples of their actual implementation in practice.
The book is intended for both experienced professionals, and for those who are just beginning their careers.
Publisher: Litterra, 2005
Circulation: 3000 copies.
Pharmaceutical Marketing
Spukov S.V.
The manual considers theoretical features and practical recommendations regarding the marketing of pharmaceutical products in Russia. The main components of marketing as applied to the pharmaceutical business are considered, an algorithm for creating a marketing plan and developing components of an action plan for the promotion of drugs is proposed.
The book is intended for professionals in the field of marketing of pharmaceutical products, as well as sales managers drugs.
***
Hits: 122